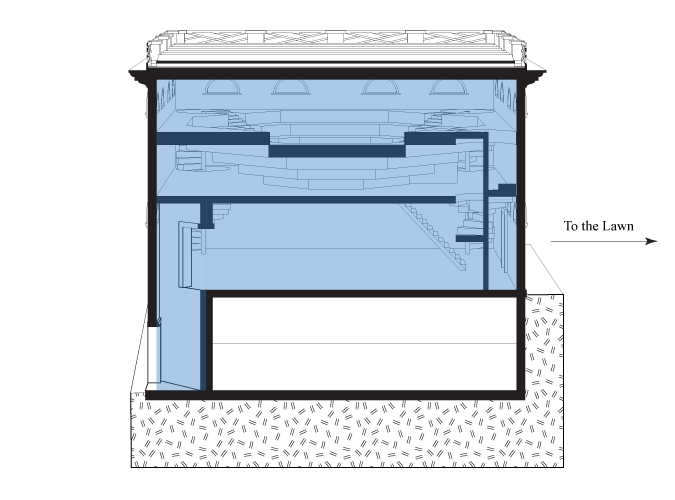 ---
Please click on each level of the section perspective to learn more about the Anatomical Theatre.
Thomas Jefferson designed the University of Virginia's Anatomical Theatre in 1825 after the appointment of Dr. Robley Dunglison as the first Professor of Medicine. Dunglison was an English doctor and later became Jefferson's personal physician. Dunglison claimed that his living and teaching quarters at Pavilion X were not adequate enough for the dissection of cadavers, and convinced Jefferson to design a theatre to provide "practical experience to educate physicians."1 Although Jefferson insisted on "choosing the position and architectural arrangement" of the theatre, he gave Dunglison the task of designing the "interior arrangements."2 Both Jefferson and Dunglison spent time in France, and may have used the Ecole de Medicine of Paris, where Dunglison was a student, as a basis for his design.
---
1. Dominic Puzio, "The Anatomical Theatre (1825-1939)," Jefferson's University: The Early Life, 18 June 2015, accessed 12 February 2016, http://juel.iath.virginia.edu/node/242.
2. Robley Dunglison, The Autobiographical Ana of Robley Dunglison, edited by Samuel X. Radbill (Philadelphia, PA: American Philosophical Society, 1963), 23.